»SOS« Is Not The Five Millionth Diet!
But it is also no tribute to the supposedly famous sentence of Winston Churchill to the question of a journalist, as he has reached such an age as a passionate cigar smoker, whiskey drinker, and champagne lover: »First of all no sports!«
SOS is not a diet; you do not have to starve or count calories. It all starts with a 7-day detox program followed by a permanent diet change. Of course, you are welcome to do sports.
SOS is a form of nutrition that has become a successful lifestyle model that has already been followed by hundreds of thousands. But not only that! Here you can read reviews and experience reports about the health successes - besides weight loss - that have already been achieved by the large SOS fan community.
SOS is a diet that activates the metabolism and more. This nutrition program is ideal for those who...
» are looking for a successful way to lose weight permanently;
» have tried many diets and are struggling with the yo-yo effect;
» are unable or not allowed to exercise for health and physical reasons;
» don't have time for sports or don't enjoy it;
» do not want to count calories;
You do not have to become vegetarian or vegan through SOS if you do not want to. Nevertheless, this diet is suitable for vegetarians and vegans as well! You do not have to take promising powders, pills, capsules or preparations that are supposed to make you slim!
Even a glass of wine or beer is allowed!
NPractically all foods that are consumed with the SOS diet support our health, strengthen our immune system, stimulate digestion, contain effective antioxidants and are free of toxins, etc., - provided that we consumers are truthfully informed about them via package inserts or information on ingredients!
SOS nutrition follows the recommendations of Hippocrates of Kos: » "Our food should be healing, our remedies should be food.« This wise physician already knew before the birth of Christ: » Diseases do not attack people out of the blue, but are the consequences of continued mistakes against nature.«
 » Detox. » Defat. » Clean out.
The detailed 7-day detoxification plan described in the book is not a »conventional diet« as it has been practiced a hundred times over. Especially since most »diets« don't really work anyway, or the notorious yo-yo effect sets in very quickly. SOS is not a diet.
In the 7-day detoxification plan, the first step is to »cleanse« and »detoxify« the organism so that the liver can carry out its enormous »clean-up work« again. Because a clogged liver cannot do that anymore.
We get fat and eventually sick.
On the first day, for example, all fruits are allowed - except bananas! Melons and particularly watermelons are especially recommended on this day. On day two there are plenty of vegetables. Starting on day five, meat or meat alternatives are served on the plate. According to the SOS plan, you can eat as much of each meal as you can eat in your stomach - whenever you get hungry!
As soon as this »cleansing« is completed, the »fat burning engine« starts up again, and our organism can continue its essential metabolic work.
The yo-yo effect does not occur because our organism can function properly again after the 7-day treatment.
Read the exact details of the detoxification plan in the book. Those who stick precisely to the plan - without ifs and buts - and follow the important instructions will end up with an AHA experience. Guaranteed!
You can read all about the experiences of SOS users in the reviews on this website, in the SOS Facebook group, on the SOS fan page and other social media platforms.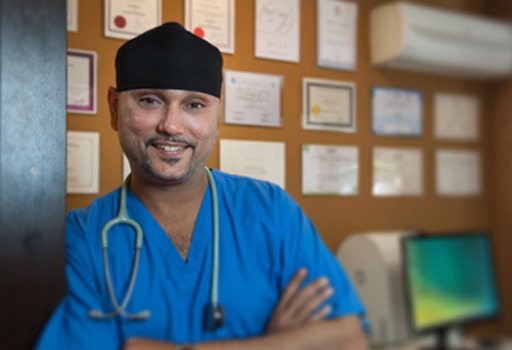 Meeting Dr. K.S.
Meeting with the Indian doctor, Dr. K.S., in 2015 changed the life of author Katharina Bachman enormously.
She became slim, fit and most importantly, healthy again. Her book about her incredible experience of not being a diabetic anymore, how her high blood pressure disappeared, and her cellulite thinned, sold over a hundred thousand times in just ten months. The book »SOS - Schlank ohne Sport« has landed among the top 10 on Amazon, was ranked number 1 for several months, and sold out completely three times.
This book, which many readers now call their »Nutrition Bible« describes humorously and informatively how our organism can be »detoxed«, »defatted« and »cleaned out« without having to starve or do without.
Bestselling Author
Katharina Bachman
With »SOS - Schlank ohne Sport,« Katharina Bachman and her husband Norbert Bau have shown a simple method to themselves and worldwide over 100.000 people, how their body can become fit, slim, and healthy again.
The SOS method is based on millennia-old knowledge of the Indians, Maya, and Aztecs as well as the latest findings on natural foods and gerontology.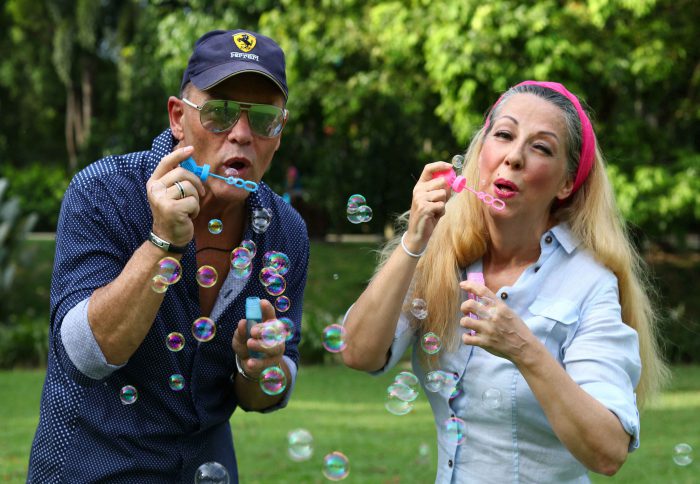 »​ Together we are more than 120 years old.«