THE BOOK
SOS - EXERCISE-SCHMEXERCISE
SOS-Exercise – Schmexercise
Forget all diets known to humanity and say goodbye to excess weight or cellulite! Detox. Defat. Declutter.
Finally permanently slim, healthy, beautiful, and in a good mood: The author and globetrotter Katharina Bachman was very fortunate to meet the Indian doctor Dr. K.S. in Kuala Lumpur - his expertise and experience have made her a new person! A 7-day detoxification plan followed by a change in diet showed her the way to a new life - a path that hundreds of thousands are already following.
"SOS - Slim without Sport," which was sold out just a few hours after its release and sold over 100,000 copies within only nine months, is and remains an absolute bestseller. Every day thousands of satisfied and happy people report on Facebook about their successes and their trust in "SOS - Slim without Sport."
In this bestseller, you will learn how the author and her husband quickly became fit, slim and, above all, healthy again thanks to an Indian doctor from Malaysia.
Katharina Bachman explains her motivation for writing this book: "I was overweight, had diabetes, osteoarthritis, hypertension, and cellulite, but I was too lazy to exercise. Now I have lost over 17 kilos within six months and am completely healthy again: Diabetes, high blood pressure, allergies are a thing of the past! My skin is more beautiful today than it has been for a long time. I am very grateful to fate that it 'accidentally' led me into Dr. K.S.'s practice. SOS is no witchcraft, but a feasible, sensible change of diet that is easy to integrate into everyday life and changes your whole life in a lasting way - and best of all: everyone can do it!"
Open, humorous, and honest, the author tells about the greatest miracle of her life. She informs about millennia-old knowledge of the Inca, Maya, and Aztecs and how you can recognize modern food traps that make you permanently ill.
SOS stands for an entirely new philosophy of life. Thanks to Katharina Bachman, superfoods such as coconut oil, papaya and chia seeds are available in almost every supermarket in Germany today.
Detox. Defat. Declutter.
简短的介绍
在本书中,您将了解一位来自马来西亚的印度医生如何协助我丈夫和我在短时 间内恢复康强,苗条,以及健康的体魄。
能实现这个"奇迹"并无神秘的酿造或任何神奇的"魔药",而是靠着印度,玛雅和 阿兹特克人千年以前的知识,等等去实现。从此,我们又充满了开心与满足感 ,过着令人兴奋的生活。我们相信你也能体验到这样的奇迹!
我会告诉你关于我们是如何做到的细节。因为我想分享给所有感兴趣的人,让 你也可以有这样的经历。我的成功故事也应该成为你的成功故事 - 如果你也想 要!
通过详细的排毒计划,80个美味和容易烹煮的食谱,以及许多有用的提示,该 程序也可以轻松地由您执行。
您忠诚的
Katharina Bachman
Dimagrire Senza Fare Sport
Dimentica una volta per tutte le diete del mondo e dì finalmente addio al tuo peso in eccesso e alle cellulite! Disintossicante. Sgrassante. Ripulente.
Finalmente magra, in salute, bella e carina a lungo: l'autricie giramondo Katharina Bachman ha avuto la grande fortuna di incontrare a Kuala Lumpur il medico indiano Dott. K.S. - le sue conoscenze e la sua esperienza le hanno consentito di diventare una persona nuova! Un piano disintoisscante basato su un cambiamento nutrizionale particolare le hanno mostrato una via verso una nuova vita - una via che già migliaia di persone seguono.
»SOS – Magra senza Sport«, già dopo alcune ore dalla sua comparsa vendette tutte le sue copie e in soli nove mesi venne acquistato più di 100.000 volte, diventando ed essendo tutt'ora un Beststeller. Ogni giorno migliaia di persone contente e soddisfatte riportano su Facebook il loro successo e il loro attaccamento a »SOS – Slanciata senza Sport«.
In questo Besteller scoprirai come l'autrice e il suo compagno, grazie all'aiuto di un medico indiano proveniente dalla Malesia, sono riusciti in poco tempo a mettersi in forma e soprattutto a ritornare in salute.
La motivazione che ha portato a scrivere questo libro la riferisce l'autrice Katharina Bachman: "ero troppo grassa, avevo il diabete, l'artrosi, pressione del sangue alta e la cellulite, ma ero troppo pigra per praticare dello sport. Adesso in soli sei mesi ho perso più di 17 Kg e sono ritornata di nuovo in salute: il diabete, la pressione alta del sangue e le allergie appartengono al passato! La mia pelle oggi è più bella che mai. Sono rconoscente al destino che mi ha condotto "per caso" nello studio del Dr. K.S. SOS non è un trattato di magia, ma un cambiamento
nutrizionale fattibile e ragionevole, da integrare nella quotidianità e capace di cambiare in meglio l'intera esistenza - e la cosa migliore: ognuno può seguirlo!".
Aperta, con umorismo e passione, l'autrice racconta il più grande miracolo della sua vita. Nel suo libro racconto il sapere millenario degli Inca, dei Maya e degli Aztechi e di come i moderni sistemi di nutrimento possono condurre a malattie croniche.
SOS rappresenta una nuova filosofia di vita. Katharina Bachman inoltre è grata del fatto che i Superfoods come l'olio di noce di cocco, la Papaya e i semi di chia siano oggi disponibili in quasi tutti i supermercati.
Vostra Katharina Bachman
S.O.S. Schudnij Omijajac Sport
Pożegnaj swoją nadwagę lub cellulit!
Odtruwanie. Odtłuszczanie. Oczyszczanie.
Nareszcie na stałe szczupła, zdrowa, piękna i w dobrej formie. Autorka i podróżniczka Katharina Bachman miała szczęście spotkać w Kuala Lumpur indyjskiego lekarza dr K.S., którego ekspertyza i doświadczenie sprawiły, że dziś jest zupełnie odmienioną osobą!
7- dniowy plan detoksu wraz ze zmianą nawyków żywieniowych wskażą drogę do nowego życia - drogę, którą w międzyczasie podjęły już setki tysięcy osób.
»SOS – Szczupli bez Sportu« - to książka, która już kilka godzin po ukazaniu się została wyprzedana a w ciągu zaledwie 9 miesięcy kupiono 100.000 egzemplarzy i jak dotąd jest absolutnym bestsellerem. Codziennie tysiące zadowolonych i szczęśliwych osób opisuje na Facebooku swoje sukcesy i doświadczenia dzięki książce »SOS – Szczupli bez Sportu«.
W tym bestsellerze dowiadujemy się, jak autorka i jej partner stali się w krótkim czasie sprawni, szczupli i przede wszystkim zdrowi dzięki indyjskiemu lekarzowi z Malezji.
Motywacja autorki do napisania tej książki brzmi następująco: »Byłam za gruba, miałam cukrzycę, artretyzm, nadciśnienie i cellulit, ale byłam zbyt leniwa aby uprawiać sport. Obecnie zrzuciłam ponad 17 kilogramów w ciągu 6 miesięcy i jestem znów w pełni zdrowa: cukrzyca, nadciśnienie i alergie należą już do przeszłości! Moja skóra jest dziś tak piękna jak nigdy przedtem. Jestem bardzo wdzięczna, iż przeznaczenie 'przypadkowo' zaprowadziło mnie do gabinetu dr. K.S. SOS to nie czary, tylko realne i w pełni możliwe do wdrożenia w codzienne życie zmiany nawyków żywieniowych, które w sposób długofalowy zmienią całe życie - i co najważniejsze - każdy może to zrobić!«
Autorka opowiada o największym cudzie swojego życia w sposób otwarty, szczery i pełen humoru. Przekazuje wiedzę Inków, Majów i Azteków znaną od tysięcy lat i uczy jak rozpoznać błędy żywieniowe, które powodują długotrwałe choroby.
SOS to również nowa filozofia życia. Dzięki Katharinie Bachman zdrowe jedzenie takie jak olej kokosowy, papaja i nasiona Chia są dostępne dziś prawie w każdym markecie w Niemczech.
Katharina Bachman
Krótki opis
W tej książce można się dowiedzieć, jak mój partner i ja dzięki pewnemu indyjskiemu lekarzowi z Malezji znów staliśmy się zdrowi w ciągu możliwie najkrótszego czasu.
W tym »cudzie« nie pomagała nam żadna tajemnicza mikstura ani magiczne »pigułki« odchudzające, ale znana od tysięcy lat wiedza Hindusów, Majów i Azteków oraz wielu innych.
Od tego czasu jesteśmy znów szczęśliwi, zadowoleni i cieszymy się radosnym życiem. Jesteśmy przekonani, że każdy może doświadczyć takiego właśnie cudu!
Opisuję szczegółowo jak i dzięki czemu to osiągnęliśmy, gdyż chętnie dzielę się moją wiedzą z każdym kto jest tym zainteresowany, dzięki czemu można doświadczyć tego samego. Mój sukces może stać się sukcesem każdego, kto tego pragnie!
Dzięki szczegółowemu planu detoksu, 80 tanich i łatwych w przygotowaniu receptur i wielu przydatnym wskazówkom, program ten da się łatwo i bez wysiłku dostosować do potrzeb indywidualnego użytkownika.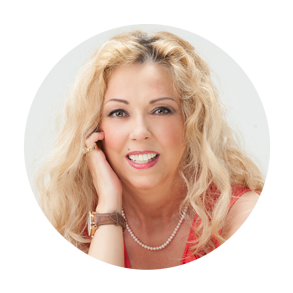 KATHARINA BACHMAN
Bestselling Author
With the German version of SOS Exercise-Schmexercise bestselling author Katharina Bachman has launched an avalanche in German-speaking countries and triggered a movement! Thousands of people have joined together in Facebook groups and share their positive experiences, before / after photos, motivating each other, exchanging SOS-compatible recipes and meeting at SOS round tables.
You do not have to swallow pills to get slim, fit and recover. The right nutrition has changed the life of Katharina Bachman and meanwhile thousands of other people worldwide: More energy, more joy of life and a satisfied body feeling!
You can do that too, if you want to.