KATHARINA BACHMAN
About The Author And Her Books
Since 2001, German born author Katharina Bachman has been living and working in Asia.
She made her first public appearance with her thriller DER ZEITZUG (The Time Train) in 1989, followed by her novel DEADLINE and her satirical novel Der Genialste Gatte von Allen ( Best Husband of All Times).
In 2009, the author published Nix wie weg…Von Fernweh und Wehen in der Ferne (I'm Outta Here…A Story About Itchy Feet and Homesickness). This expat-book is a tribute to her beloved home country of choice, Malaysia. It offers a witty and informative read about leaving home and living the exciting life of an expat in an exotic foreign land.
In collaboration with famous Belgian comic book author Rik De Wulf, the author's next book became the beautifully illustrated children's book TOBSI bekommt ein Zuhause (TOBSI Gets a New Home).
In 2015, Goldmann Verlag published SOS-Schlank Ohne Sport, instantly becoming a bestseller sold out within hours of publication. Its first edition sales sky-rocketed in German-speaking countries to 100,000 copies in just nine months.
In her follow-up cookbook SOS - Schlank ohne Sport. Das Kochbuch, along with a wide choice of recipes and food photos, bestselling author Bachman shows the benefits of a varied, exciting and creative change of diet.
Next to a 4-week recipe plan to ensure a successful change of diet, the reader is treated to a series of helpful tips and hacks on healthy eating and regaining an energised life.
Bachman's third SOS book, SOS - Schön ohne Schummeln, appeared in December 2016 and went into its second edition even before the official launch date.
In it, the author unveils her personal secrets. Using natural ingredients and long forgotten recipes passed along by Malaysian jungle tribes, she describes how she rejuvenated her biological age by 15 years.
SOS - Schön ohne Schummeln thereby completes the successful SOS trilogy as a wholistic lifestyle concept for better health, quality of life and beauty.
With the completion of the SOS series the rapidly growing fan community has advanced to a new lifestyle movement, whose members have collectively lost over 3 million lbs. to date.
Active as cruise ship speaker/ lecturer and Asia-expert for AIDA Cruises since 2006, Katharina Bachman travels the South China Sea, reading from her books, giving fascinating lectures on the intricacies of Asian cultures and hosting workshops on the subject.
Since June 2017, the author has enhanced the on-board AIDA Cruise entertainment programme by integrating her successful SOS book trilogy. Info and Calendar!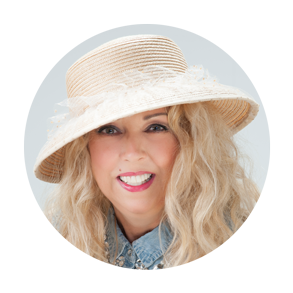 I was born in the small town of Wormersdorf, which by the way entered the Rhenish history as a "land of love". Why it is like that? Well, they tell you some interesting stories about it. One of them goes like this:
At the foot of the a little hill, called Tom Hill, which rises in Wormersdorf to a height of 316 meters above sea level, once enthroned a Herculean fortress: the "Tomburg". B.t.w. it had been  documented since 950 (a.C.)  The Palatine Ezzo and his lovely wife Mathilde lived there, about the year 1000. In a miserable long battle between counts, robber barons, archbishops and dukes, the Tomburg had been finally distroeyd  in 1473, except for the pitiful remnant.
Since then the once so important bastion has remained a ruin. And right there, at the foot of this castle ruin, a road winds up to the Tom Hill, which was populated on the weekends by tens of lovers for, nowadays called, a date. Therefore, according to the story, the small, contemplative Wormersdorf was soon called the Land of Love.
However, the Tomburg has a lot more more interesting stories at hand - and it goes like this: Once upon a time ... Count Ezzo and his loveliness Mathilde, who soon saw baby pleasures after their wedding. The count was so happy about his wife's condition that he had a cradle built.
But not any cradle. It was made from pure gold. After shining in full splendor before the happy couple, Mathilde gave birth to a daughter. But, it is said, the baby died of a sudden infant death only a few days after his birth (crib death).
From now on Mathilde sat crying day and night at the golden cradle and did not leave the castle anymore. Count Ezzo was so saddened that one day he had the cradle thrown into the castle well. This event soon made the rounds. In the course of the following centuries, there were always troopers of gold diggers searching for the fabled "Golden Cradle". But until today it remained undiscovered.
Count Ezzo, who became king at the age of three, and Mathilde, who by the way was a sister of Emperor Otto III. was, proved to have other children: e.g. daughter Richezza, who became the Queen of Poland and son Otto, who was allowed to call himself Duke of Swabia in 1045 - but only died two years later at the Tomburg. Many counts followed, until in 1230 the lords of Müllenark became lords of Tomburg and from then on called themselves "von Tomburg". They went as robber barons through the woods and used the built on a basalt cone Tomburg as a retreat.
When I was a child, this story fascinated me. One day, when I was perhaps seven or eight years old, I walked with my parents to the Tomburg and looked down into the castle fountain. Immediately my imagination got going and I imagined what it would be like if I found the golden cradle. Arriving home, I immediately began to put my fantasies on paper ...
Further sources in regards to "Tomburg" and Tom Hill, in German:

www.tomburg-forschung.de
www.kreis-ahrweiler.de
www.general-anzeiger-bonn.de
For more information about Katharina Bachman please log on to her German website:
www.katharinabachman.de